Master Classes, Video Courses & Instruction
As a teacher / clinician, Byron has taught many hundreds at schools, colleges, conservatories and as a contract artist for the State of California, also as faculty at Deep Springs College and California College of Music.

Musicians of all levels and areas benefit from his private instruction online via Zoom, Skype & Facetime and Google Hangouts.  He teaches all Fretted Instruments, Keyboards, Vocals, and non-instrument-specific curricula (such as Harmony / Theory / Improv, Composing / Arranging / Orchestration, etc etc) to players of all instruments.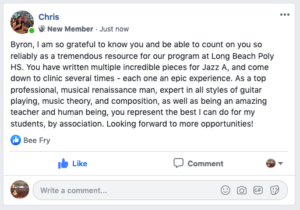 …but what might be his best and most important donation to musical education so far is the Arranger's Toolbox video course.